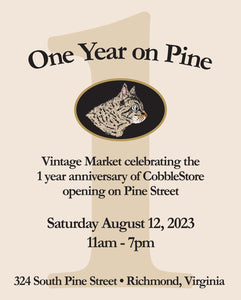 One Year on Pine: Our 1 year Anniversary Market!
Truly can't believe it's been a year at our new location at 324 South Pine Street. To celebrate the milestone I wanted to throw our largest market yet. I made sure to invite vendors that have contributed to the store in some way over the past year or years since we began business in 2016.
What to expect!

The event will take place Saturday August 12 from 11am-7pm in the parking lot directly next to our store.
Smashed RVA & Intergalactic Tacos will be set up from 12PM-6PM serving smash burgers and tacos! There's even talk of a collaborative special between the two that is an ode to 90's cafeteria lunch days. 
We will have tables and chairs set up in the parking lot for you to chill and eat between shopping!
Fan Ran & Profound79 of Gritty City Records will be setting the vibe of the event DJ'ing some of the best 90's hip hop.
PAIX Espresso will be set up serving some of the best coffee in RVA!
We will have 10+ vintage vendors set up selling some amazing stuff. Check out their instagram pages below to get a feel for what they carry and will be bringing!
Mon.der

Please show some love by shooting our featured vendors a follow and drop a comment letting them know what you want to see at the market!
---