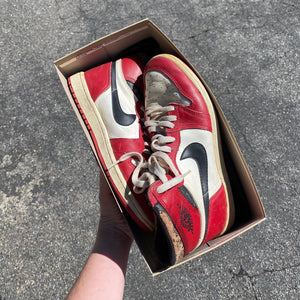 Rescuing Real 1985 Nike Air Jordan Chicago 1's from an Estate Sale
Still so surprised I found these. I was at an estate sale in a damn near gated community outside of Richmond, VA. In a super nice, new, huge house this was the last thing I was expecting to find and low and behold there they sat in the back of a bedroom closet. They were not actually labeled for sale in the auction so I asked about them and they let me make an offer, which they happily accepted. Wedged in a Bostonian shoe box I asked if they had the original box but that was long gone.


Thanks for all the love on finding these. They are a bucket list find for me so they are not for sale. The foam in the collar is dry rot so they would have to be professionally restored to be worn.

So you know the deal, ALWAYS ASK.
Thank you for reading! As a gift, please enjoy 10% off any of our nike products with the code: nikeblog10
---